Meet the Imam
Bio of Shaykh Moutaz Charaf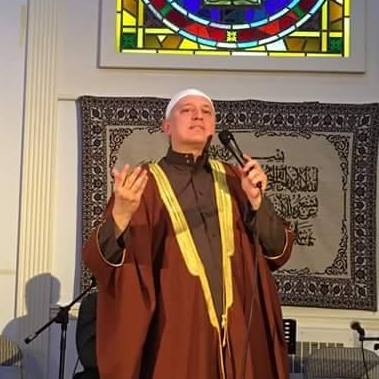 Imam Moutaz Charaf has been a community leader and guest khateeb in the Tri-State Area for over 20 years. Originally from Syria, he studied traditional Islam there under various scholars and continued on to compliment his studies with a Masters in Muslim-Christian relations at Hartford Seminary. He is primarily known for his work in the community, performing marriages, hosting programs and events to build brotherhood and sisterhood, conducting fundraisers for various masajids, and delivering powerful speeches for a variety of occasions, inspiring the heart to reconnect with Allah and His Beloved, Prophet Muhammad (peace be upon him), not just in mind, but in spirit as well.
     Imam Moutaz Charaf has served the community as a volunteer Chaplain under the Bergen County Prosecutor, a Muslim Chaplain at Rutgers University – New Brunswick, a volunteer clergy at various hospitals, and as the Director of Education at Minahj-ul-Quran in Hackensack, NJ. He has coordinated and participated with a variety of masjids to conduct several events and programs and has been a strong advocate for interfaith, as well as promoting the beautiful cultural diversity that exists within our beautiful faith, working with all communities. He is also the President and Founder of El-Zahra Education Foundation under which he started Hidaya Weekend Schools in a variety of Masjids to help facilitate Islamic learning opportunities for children in different communities. He serves as an Imam at the Islamic Society of Essex County (ISEC) in Newark and is the Head Imam of our masjid, the Elzahra Islamic Center in Midland Park, NJ. 
     Shaykh Moutaz Charaf is most known for his "note-card-less" articulate speeches in english, supplemented by Quranic verses and Hadiths in arabic. His personal goals are to participate in the moralistic growth of society reflecting values of good conduct, mercy and love, in accordance with the tradition of our ultimate role model, Prophet Muhammad (peace be upon him). Additionally, he hopes to promote goodwill, understanding, fellowship and respect among Muslims and Non-Muslims through education and community service activities. He admits that none of the work he has accomplished could have been done without the love and support of his wife, tirelessly working to give back to the community. And while he has already given much of his life in service he is still going strong and is as active as ever.